Mori has a lot of experience in hospitality services and is currently working at Tokyo Food. She most values the healthy and supportive workplace culture where speaking up is encouraged and everyone is willing to improve and grow their skill sets.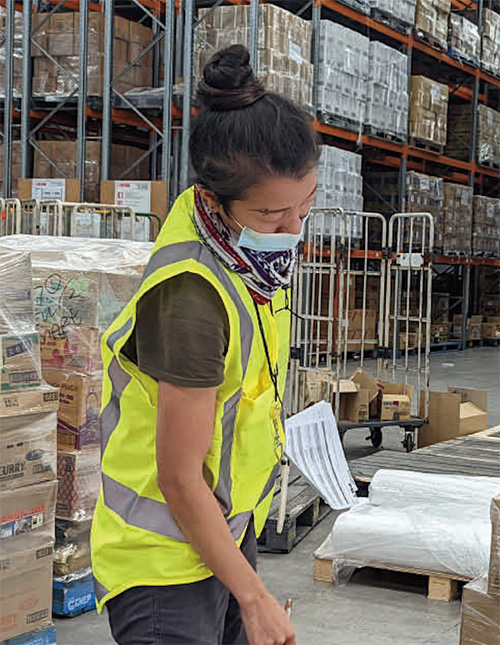 TOKYO FOOD
Logistics Department
Assistant Distribution Manager – Mori
From Japan and studied to become a sports trainer. Always had a dream to move abroad so after saving up for 2 years she moved to Canada in 2013 where she lived for 2 years and then moved to Australia from 2016-2019. She is most fond of her 3 months long road trip where she travelled across Australia. And now she's been living in NZ since 2019. She also backpacked across Taiwan for 2 months, travelling to 10 countries in total. She joined Tokyo Food as an Assistant Distribution Manager in April 2022.
Why did you join Tokyo Food?
With extensive experience in the hospitality industry, I started to gain interest in the backbones that support the hospitality industry. I got curious on how we receive our foods at supermarkets and at restaurants, so I joined Tokyo Food to get a different perspective of the industry.
What do you most value at Tokyo Food?
Communication is key. I also value the healthy and supportive workplace culture Tokyo Food offers, where speaking up is encouraged and we always find a solution to issues as a team, including everyones opinions. We also make sure to maintain good communication with all involved departments to ensure smooth operations.
Tell us about a good and a difficult experience you've had.
We try to always find solutions as a team through discussions and exchanging opinions. And when I was once asked for my opinion by my superior and when it was accepted it gave me a sense of accomplishment and that gave me confidence in the work that I do. My difficult experience was when I tried to manage everything on my own. I thought I could handle it but then I realised my work wasn't efficient so then I started to ask for more support and received it.
Tell us about your forklift qualifications.
I was able to obtain a forklift licence, thanks to the support provided by Tokyo Food. They asked me if I was interested in getting a licence and I was thrilled for this given opportunity. I grew up with a forklift at my family home in Japan but I never imagined to obtain my own forklift licence. The licence opened new doors within the workplace so I'm proud I took the chance.
What are your long term goals?
My work can be difficult at times, but I always try to be aware of the surroundings and respond to even the smallest changes that we could improve. I still have a lot to learn, but I will continue working with motivation and I try to be as willing as all my coworkers, to improve and grow.
What type of person would be suitable for this type of role?
Tokyo Food is a Japanese company in NZ so Japanese isn't the only language we speak here, so be comfortable speaking English to some extent. If not you'll pick it up easily. Also multitasking should be your main skill so anyone who is willing to accept challenges.
About our Logistics Department:
Flexible Working Hours (From 4 hours a week)
Half the team are female! Anyone seeking to earn extra income is welcome.
Students are also welcome
We over a multicultural work environment
We support career advancement opportunities and chances of promotion
Weekday Job | Weekend off
Support and training for forklift qualification and other licences
We provide all necessary work equipment (warehouse shoes, work gloves, safety vest, etc.)
Company discounts

TOKYO FOOD Co., Ltd.
Auckland Head Office
Unit A 37-41 Carbine Rd, Mt Wellington, Auckland, New Zealand
Phone: 64-9-570-5792
https://tokyofood.co.nz/